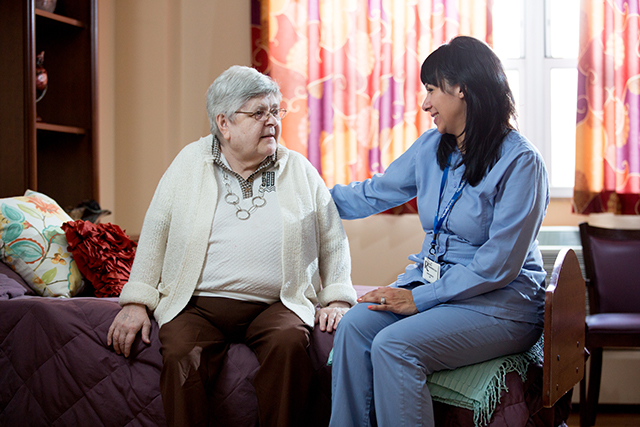 At Generations Healthcare Network, we know that caring for an older, dependent family member can often be very demanding. Sometimes the caregiver has difficulty taking a vacation, coordinating a business trip, attending to other family matters, or simply taking some time off. For these reasons and more, there is respite care.
What is Respite Care?
Respite care and short-term stays are designed to provide high-quality care and support for your loved one. For instance, an adult who is the caregiver for their senior parents may need time off. Respite programs provide quality care and activities for your loved one.
Respite care can also be a comfortable introduction to a long term care environment for both the caregiver and their loved one. It can serve as a trial period. A person who has previously stayed at a Generations Healthcare Network facility will become very comfortable with coming back on a long term basis. They will know and like our community because it becomes a home that is familiar to them. The transition becomes an easy one for both the family and the resident.
Who Should Participate in Respite Care?
Being a caregiver is a demanding role and responsibility. Respite care and short-term stays are designed so that family and friends can get time off from caring for a dependent. Respite can provide a break to rejuvenate or to take necessary time for a business trip, family matters, or even vacation. Respite care allows you peace of mind knowing that your loved ones are receiving the care they need.
Why Choose Generations Healthcare Network for Respite Care?
Generations Healthcare Network offers respite care and short-term stays so that family and friends can get the time off they need! Our comprehensive program includes:
24-hour nursing care
No minimum stay required
Three nutritionally balanced meals and snacks daily
Assistance with activities of daily living, bathing, dressing, propelling, meals
Recreational activities throughout the day
Medication assistance
Physical, occupational, and speech therapy as necessary
Hospice Care
And much more
Generations Healthcare Network's respite care program offers guests a mini vacation among their peers, with engaging activities, the best in professional skilled nursing and exceptional dining in a safe, secure environment that feels like home. Additional services include free laundry service, assistance with eating, Alzheimer's Care, oxygen and durable medical equipment such as wheelchairs, walkers, canes and more. We hope our community becomes a "home away from home" for your loved one.
Our interdisciplinary team designs a customized program based on your personal health goals, with ongoing support for a successful outcome.
Which Communities Offer This Service?
Generations at Applewood
Generations at Columbus Park
Generations at Elmwood Park
Generations at Neighbors
Generations at Oakton
Generations at Regency
Generations at Rock Island
Auburn Village