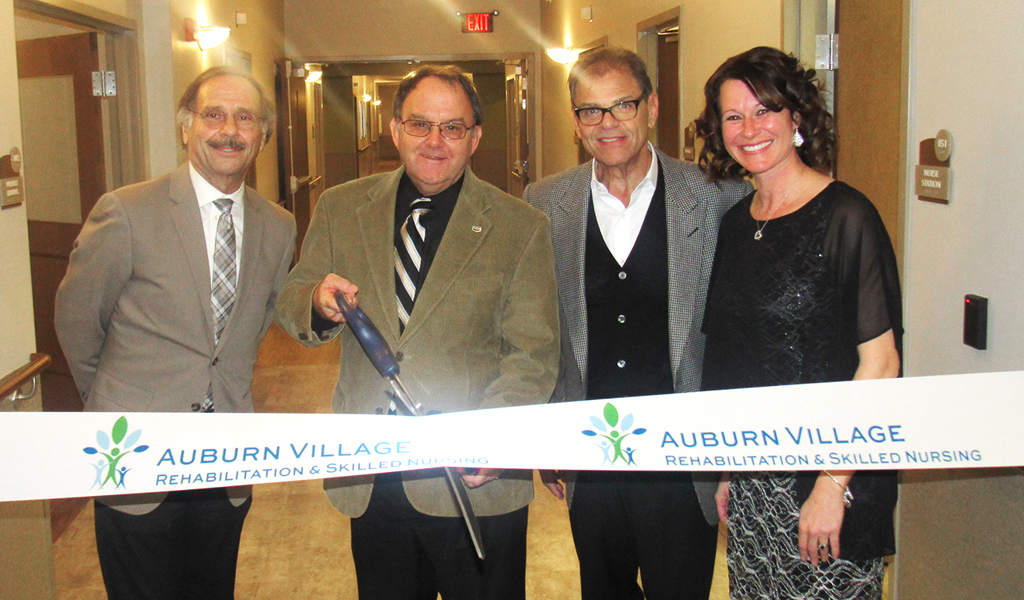 Auburn Village recently celebrated the expansion and renovation of its facility in Auburn, IN with a grand reopening ceremony. Guests, healthcare professionals and friends were invited to tour the newly renovated and expanded facility that offers a new short-term rehabilitation unit and amenities throughout the campus.
Auburn Village has 75 private rooms for guests to rest and relax when not in the therapy gym. Rooms have electric beds, flat screen TVs, brand new private bathrooms with showers and more. The renovation and expansion also includes a new reception area and lobby with fireplace, internet lounge, sports bar, movie theater, library, three dining rooms including a private dining space for special occasions, ice cream parlor and private courtyards. The state-of-the-art therapy gym is open 7 days a week and supervised by occupational and physical therapists providing therapy that is individualized and intensive designed to restore strength, enhance balance skills, promote independence in activities of daily living and improve physical and cognitive functions.
Michael Giannini, a principal of Generations Healthcare Network remarked, "Just a little over 18 months ago I stood outside and welcomed you to our groundbreaking ceremony which initiated our continued commitment and dedication to not only a quality health care delivery system but one that is progressive in recognizing the importance of a new and improved home like environment as well."
Auburn Village has a rich history of providing quality healthcare throughout the northeast Indiana region.   The Auburn Village family is proud to offer our residents compassionate person-centered care, quality-of-life activities and concierge-level service.  Call today, 260.925.5494 to learn more about our rehab therapy, private suites and more.
To view photos from the event visit our Facebook page!