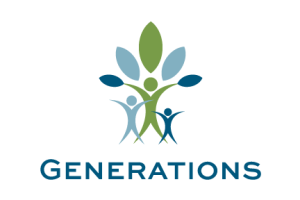 The name Generations is more than just a name and it was not one that was chosen lightly. It represents our core belief in family values, and the trust generations of families have placed in us. It represents our employees whose personal touch and compassion have touched our residents and families in lasting ways.  It represents the employees who have chosen us to provide nursing and rehabilitation care to their own families when the needed.  It also represents the multigenerational staff who chose us as a place to carry out their vocation.
We are also pleased to introduce our new logo which was designed to represent the word generations, as well as to depict growth and strength.
All of us within the Generations Healthcare Network are excited about our new name.  To us it is more than just a new name, but also a name with true meaning.  It represents our family caring for your family for generations to come.